Hiring a professional cleaning maid can truly be a game-changer when it comes to maintaining a clean and healthy home. Just picture returning to a home with pristine floors that shine like mirrors, fluffy carpets free of any dirt or dust, and upholstery that feels as clean as new. Not to mention, the sinks and taps gleaming like never before! It's almost like a dream to have someone come in and take care of all the cleaning for you.
But have you ever wondered what goes on behind the scenes? How do these maids work their magic, and is there anything you need to do to prepare before they arrive? These are all great questions! Therefore, in this article, we will closely examine the typical tasks and responsibilities that cleaning maids in Edmonton perform. Specifically, we will take you on a day trip with a maid named Amelia from Miraculous Maids, and see what a day in her cleaning career is like.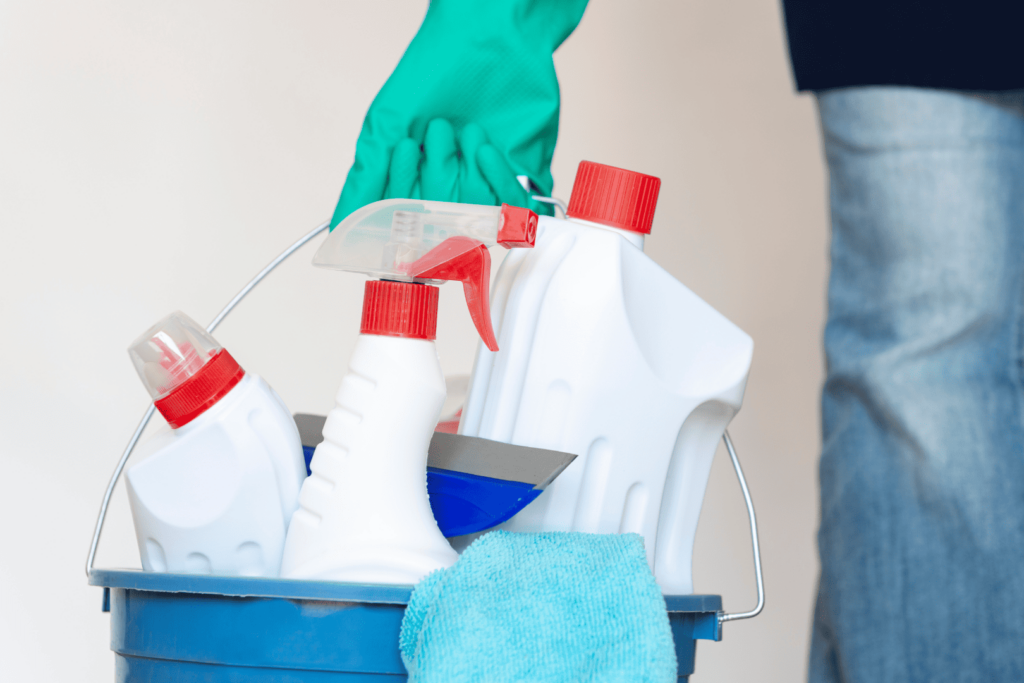 1. Follow Entry Instructions:
Amelia, a hard-working cleaning maid from Miraculous Maids in Edmonton, begins her day by carefully reviewing the internal notes before heading to the client's home. These notes play a vital role as they contain specific instructions for accessing the client's property and any special considerations, such as pets that demand extra care. Amelia understands the significance of attention to detail in providing exceptional service, so she places great importance on these instructions. Moreover, she greatly appreciates clients who have thoughtfully moved furniture to reveal previously covered areas in need of her cleaning expertise. It's important to note that Amelia and her team prioritize their safety and the protection of the client's belongings, so they avoid moving furniture heavier than 5 pounds. This ensures a secure environment and safeguards the valuable possessions of the clients.
2. Full Home Inspection:
When Amelia enters your home, she begins by conducting a thorough full home inspection. This inspection ensures that every detail aligns with your specific cleaning quote. Whether it's the number of bedrooms mentioned in the quote or the cleanliness level you expect, Amelia verifies that everything matches your requirements. In case of any discrepancies, Amelia promptly reports these details to her supervisor, ensuring a tailored and smooth cleaning process afterwwards. It is also worth mentioning, as a professional cleaning maid from Miraculous Maids, Amelia is fully equipped with her own comprehensive set of cleaning solutions and tools. This not only enables her to efficiently tackle any cleaning task but also provides a hassle-free experience for clients. There's no need for clients to worry about preparing any tools or solutions. This level of convenience ensures that clients can sit back, relax, and enjoy a truly hassle-free cleaning service.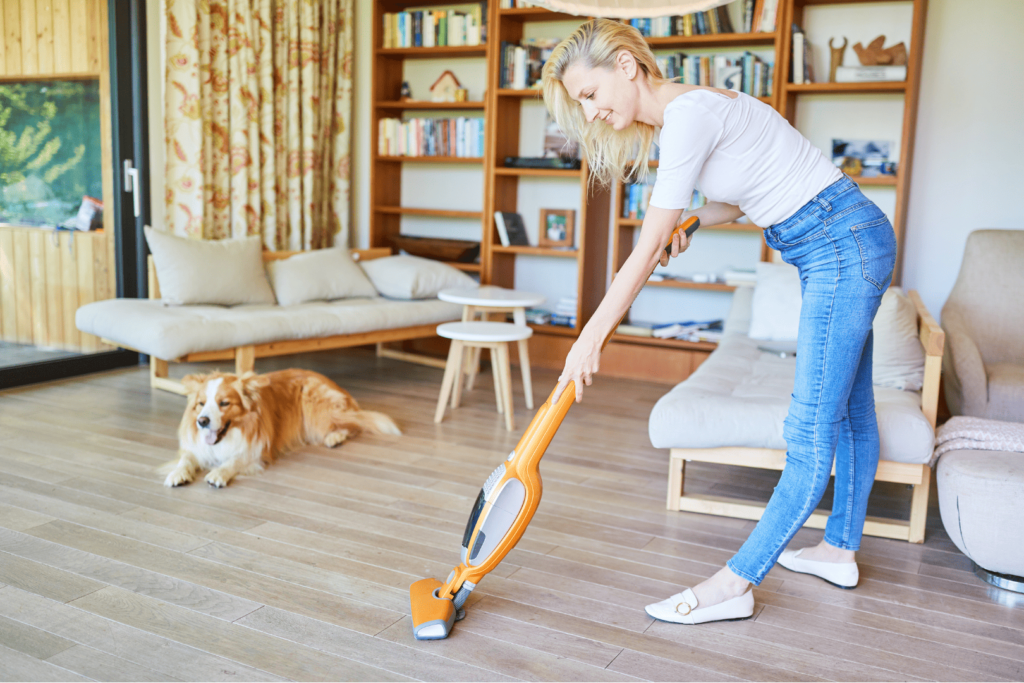 3. Discrepancy and Questions:
Once the inspection is complete, Amelia, the diligent cleaning maid, dedicates a moment to address any queries or specific instructions the client may have provided. Effective communication holds paramount importance to her, ensuring complete clarity before commencing the cleaning tasks with her skilled teammates. In case of any uncertainties or concerns, Amelia promptly consults her supervisor, guaranteeing a seamless and efficient cleaning process.
4. Discuss How to Tackle Cleaning Tasks:
Amelia then gathers with her team of experienced cleaning maids to strategize the most efficient approach. They follow a systematic and thorough cleaning plan, adhering to best practices. Their method involves starting from the top and working their way down, ensuring a comprehensive clean throughout the entire home. For instance, they meticulously clean the ceiling fan before dusting surfaces like tables, and they prioritize dusting upholstery before using powerful vacuums to eliminate any dirt or debris. However, they take special consideration when it comes to carpet cleaning (steam cleaning) as requested by the client. In such cases, carpet cleaning becomes the first thing on the list, ensuring seamless coordination and avoiding any overlap in cleaning areas and timeframes. This focused approach guarantees that the cleaning maid, Amelia, and her dedicated team deliver exceptional results while respecting the specific cleaning needs of each client.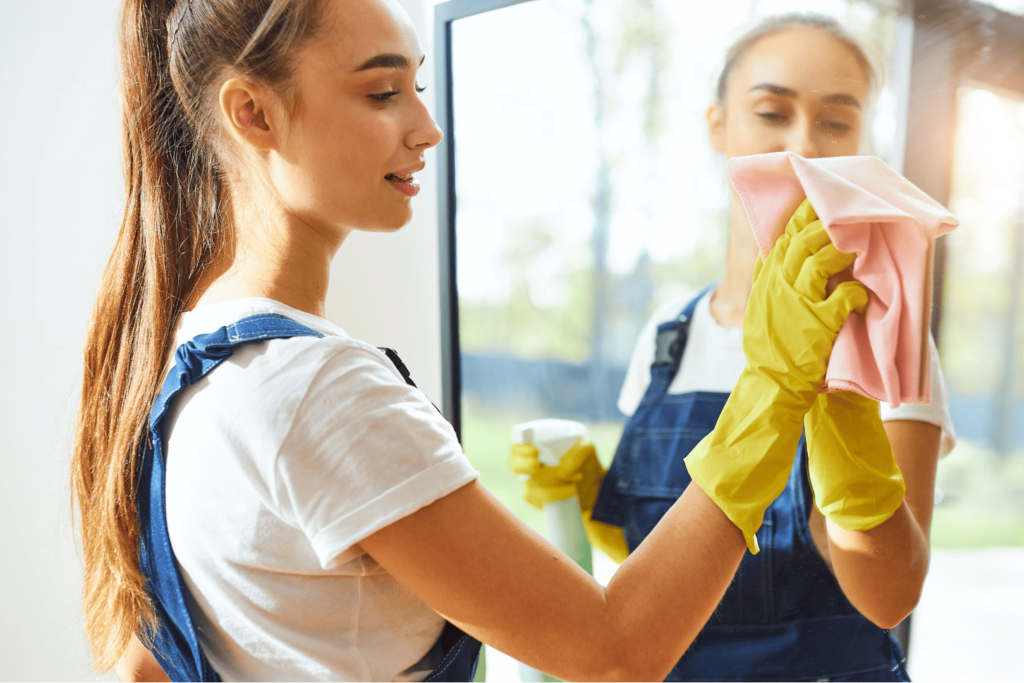 5. Final Walk-Through:
Once the cleaning tasks are completed, Amelia and her teammates conduct a final walk-through with the client, provided they are present at home. This allows them to address any concerns and ensure the client is fully satisfied with the results. 
6. Follow Exit Instructions:
In cases where the client is not present, Amelia dutifully adheres to the exit instructions provided by the client. This may involve discreetly concealing keys or securely locking keypads for added peace of mind. Additionally, she diligently takes care of emptying the garbage and properly disposing of the trash, leaving the home impeccably clean and presentable. With Amelia's attention to detail, you can trust that your home will be left in a tidy and welcoming state.
7. Survey and Feedback:
Once Amelia completes her work, her supervisor at Miraculous Maids takes the opportunity to ensure customer satisfaction. They do this by sending a comprehensive survey to the client, aiming to gather valuable feedback that helps identify potential areas for improvement. At Miraculous Maids, they place great importance on continual growth and strive to deliver unparalleled service to their clients.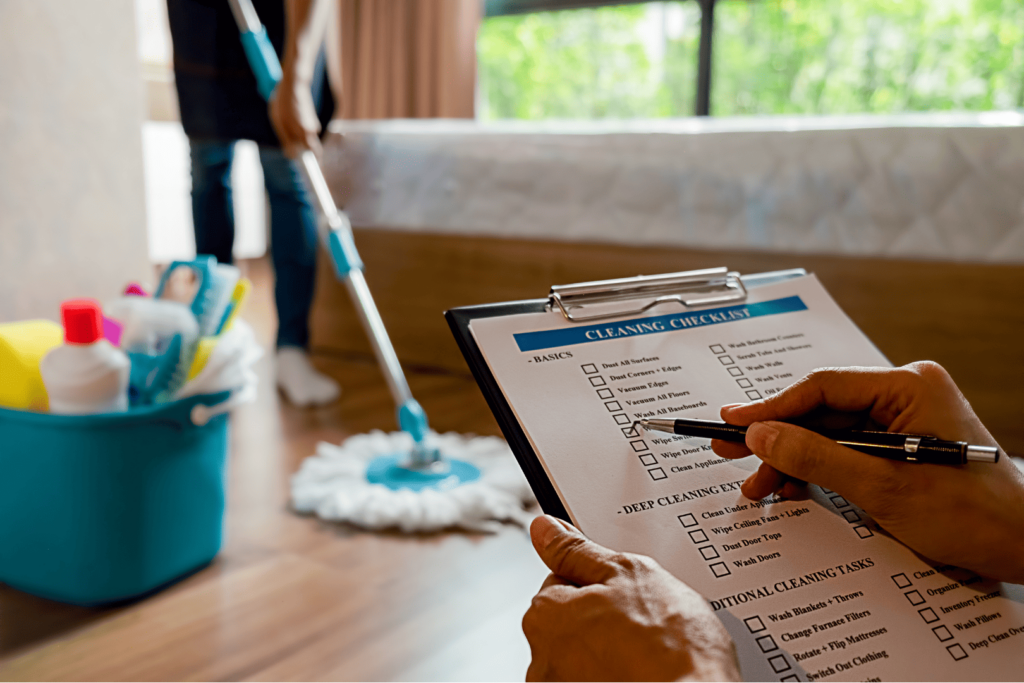 And that's a day in the life of a maid from Miraculous Maids! By taking this journey with Amelia, you now have a clearer understanding of the tasks and responsibilities performed by cleaning maids in Edmonton. If you have any further questions or inquiries, please feel free to reach out to us at Miraculous Maids! We look forward to providing you with exceptional cleaning services that meet your specific needs. If you are tempted by this article and wish to get your cleaning maid service, we would be happy to assist you! At Miraculous Maids, we offer both one-time cleaning services and recurring cleaning maid services, ensuring that we can find the perfect cleaning package to meet your desires. Feel free to reach out to us and let us make your home sparkle!