In our last blog post, we laid out a comprehensive move-out cleaning checklist to help you get that security deposit back. But, what about when you get to your new place? Then what? In today's blog post, we'll answer that for you. This blog post will lay out a thorough move-in cleaning checklist that will help you get completely settled into your new home! 
As exciting as moving into a new home can be, it's very worth it to pause the move-in process and complete this cleaning checklist first. By doing so, you'll ensure that you can feel completely comfortable and at home. There won't be any lingering feeling of it being someone else's home! 
Move-in cleanings should be fairly straightforward, especially if the previous owners completed a thorough move-out cleaning before they left. Essentially, a move-in cleaning is just to get any of the leftover dirt or dust out of your place before you move in. 
Here we go!
Entire Home
Walls
Spot wash any obviously dirty spots on your walls

Wipe down/disinfect the rest of the walls
Baseboards
Dust and wipe down the baseboards with disinfectant
Windows
Wash windows with glass cleaner (inside and outside if possible) 

Wipe down window ledges and window sills with disinfectant
Blinds 
Wipe down blinds using duster or paper towel 
Floors
Hard floors: 

Either vacuum or sweep hard floors (according to the cleaning tools you have and what your preference is!)

Mop the hard floors once they have been swept or vacuumed 

Shine hard floors if necessary or desired

Carpets

Vacuum all of the carpets before you bring in your furniture and other belongings

If there hasn't been carpet cleaning done, hire a professional carpet cleaner to deep clean the carpets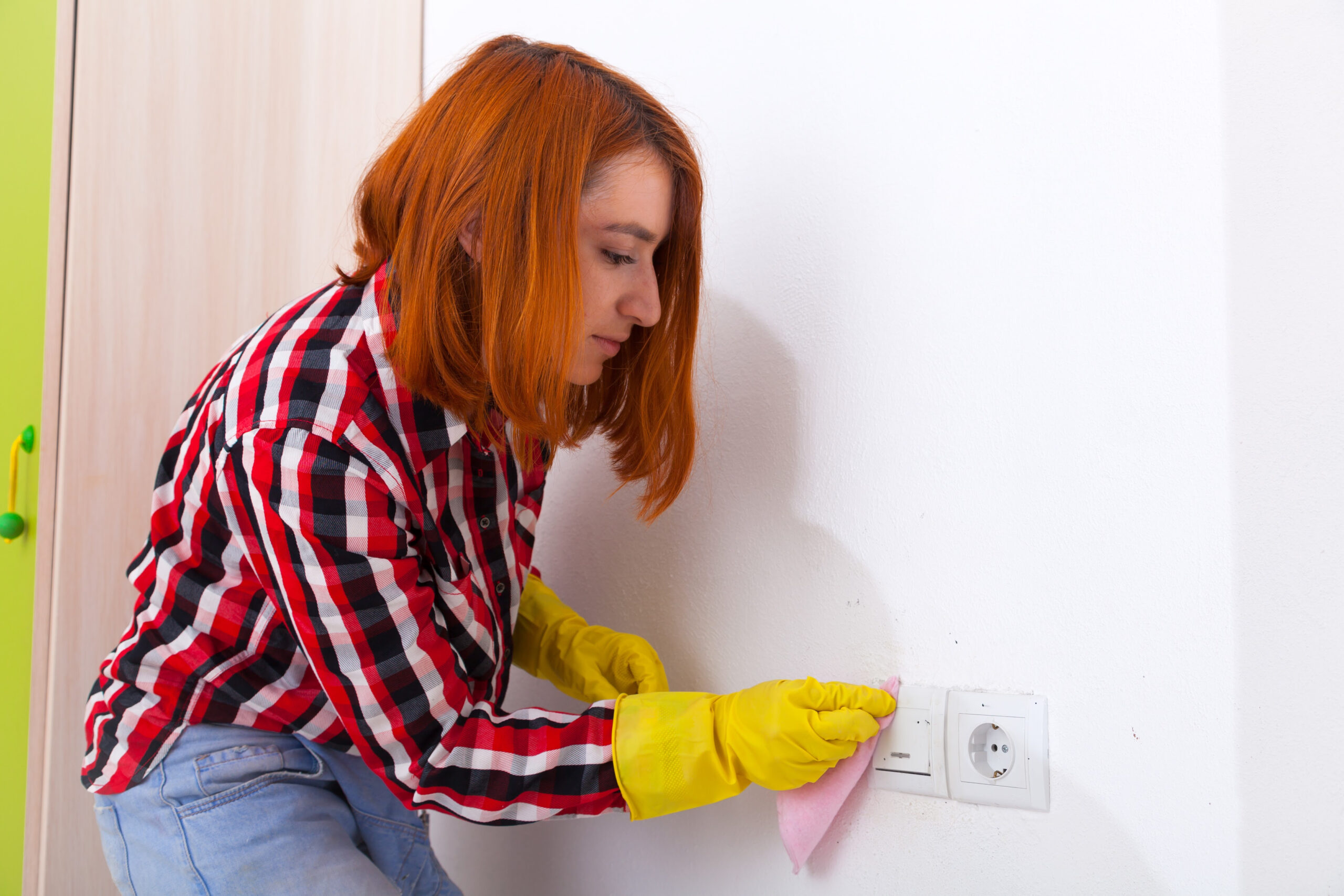 Ledges
Wipe down with disinfectant wipes or paper towel and cleaning spray
Door knobs and doors 
Wipe down with disinfectant wipes or paper towel and cleaning spray
Light fixtures
Wipe down with disinfectant wipes or paper towel and cleaning spray

If you're having trouble reaching your light fixtures, stay on the safe side and use an extended duster to clean these
Light switches & plugins 
Wipe down with disinfectant wipes or paper towel and cleaning spray

Make sure you're careful not to get spray or disinfectant directly into the plugins or switches
Bathroom(s)
All tasks outlined in the 'Entire Home' section above

Thoroughly clean the shower and tub, the toilet, and the sink in all of your bathrooms

P.S. the best bathroom cleaners will have bleach in them for the most thorough cleaning

Magic erasers work very well for those tough stains that seem to want to come out

Don't forget behind and around the base of the sink, toilet, and tub areas

Polish taps and other metal details on your tub, sink, and toilet

If you're having issues with your drains running smoothly, try snaking the drain or using liquid drain cleaner

Wipe down mirrors and windows with proper glass cleaner

Dust, wipe out, or vacuum out cupboards, drawers, and vanity if necessary

Wipe down counters with disinfectant wipes or paper towel and a cleaning spray
Bedroom(s)
In the bedrooms, make sure to do all of the cleaning tasks outlined in the first 'Entire Home' section

Dust, wipe down, and disinfect the ledges and closet rods in your new closets
Kitchen 
Once again, don't forget all of the 'Entire Home' cleaning tasks in your kitchen. In addition, clean the following: 
Counters
Before you set up your coffee machine, toaster, and other things on your counters, make sure to disinfect them with disinfectant wipes or spray
Appliances 
Oven

Your oven should have been thoroughly cleaned by the previous tenants

If your oven is self cleaning and needs some extra cleaning, simply turn the self cleaning cycle on and let it do its thing

If it needs some extra TLC and

isn't

self cleaning, degreaser products and steel wool are excellent for getting rid of those tougher spots

Stovetop

Wipe down and disinfect the stovetop with disinfectant wipes or paper towel and a disinfectant cleaner

Dishwasher

Wipe down the outside of your dishwasher (and polish it if necessary/desired

Scrub down the edges of the dishwasher door for an extra clean finish

Fridge

Before putting all of your food into the fridge in your new place, make sure to wipe down and disinfect all of the shelves, drawers, and compartments of it

As for the outside, wipe it down and shine it if necessary/desired

Microwave 

Wipe down both the inside and the outside of your microwave before use with disinfectant wipes or spray and paper towel

For the glass tray in your microwave, run it through the dishwasher 

Oven Hood 

Wipe down and disinfect your oven hood and use degreaser if necessary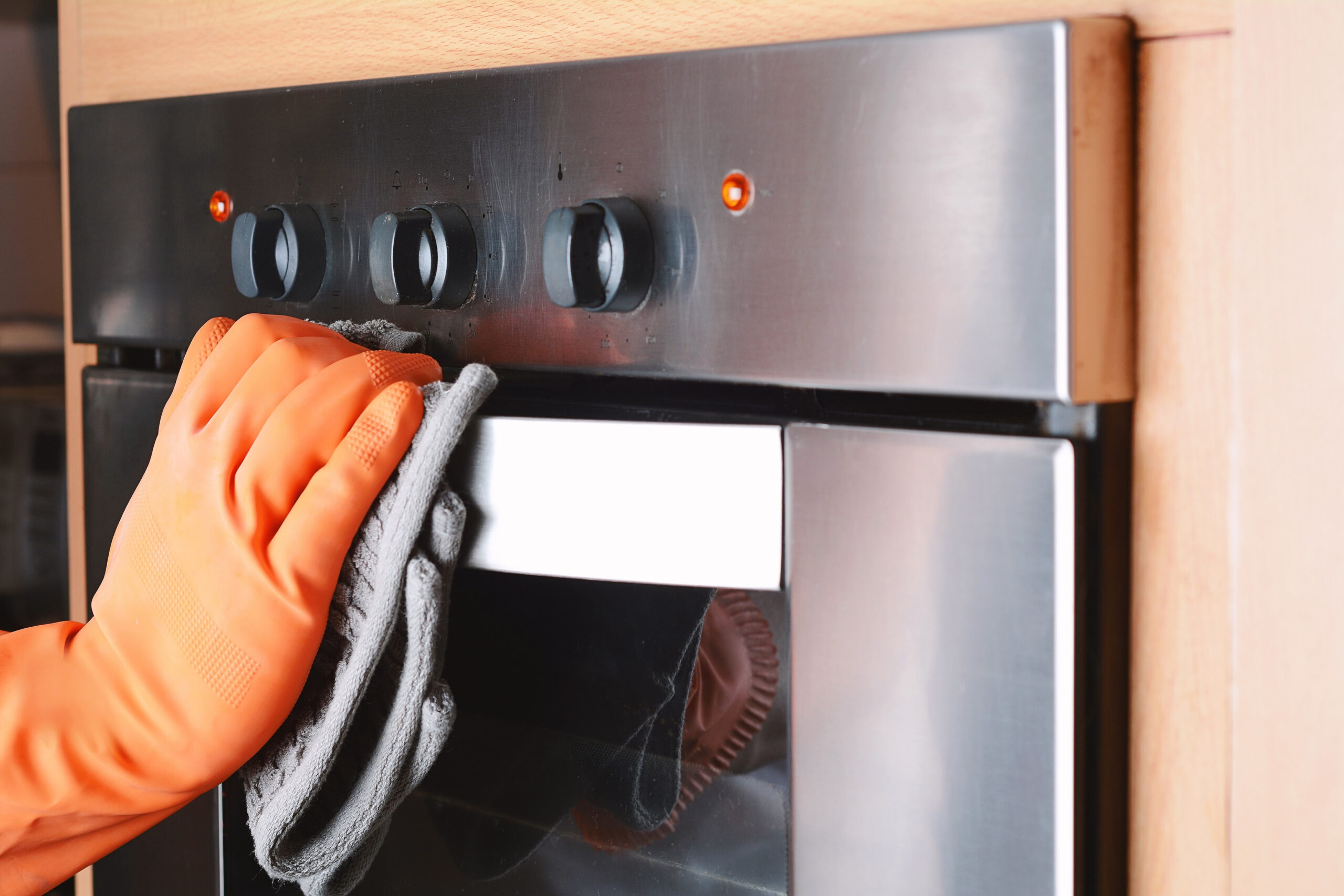 Cupboards
Vacuum or wipe out and then disinfect the insides of your cupboards in your kitchen 

Dust the tops of your cupboards as well
Taps and sinks 
Wipe down and polish the metal details and taps throughout your kitchen to get them sparkling clean
Backsplash
Wipe down your backsplash with a gentle cleaning solution
Once you've completed all of these move-in cleaning tasks, your new home will be completely ready to move into! Anything left over by the previous residents will be totally gone and you'll be able to get all of your furniture and belongings into their rightful places. Starting your time at your new place with a clean slate can make a world of difference for you. 
If you feel as though you've got too much going on or don't have time to complete this essential move-in cleaning, don't worry. Give our team a call at 780-702-5387 and we'll be able to get our Miraculous Maids out to do it for you ASAP! 
Thanks for reading and best of luck in your new place!